Our M&E software WebMo is highly easily customizable to meet your project requirements. We have over ten years of experience in customizing WebMo! Currently, we have set-up over 60 tailor-made WebMos for projects and organizations worldwide. Just contact us with your needs and we'll see how to support you best!
Below please find some examples of typical customizations.
Your logframe is different or you are using a Theory of Change model?
If your logframe is a bit different to the standard logframe, we can easily adapt our M&E software WebMo to your version.
Maybe you are following more systemic approaches like "Theory of Change" or other result models where everything (results or outcomes or outputs) can have a relation to each other.
We can adapt WebMo easily!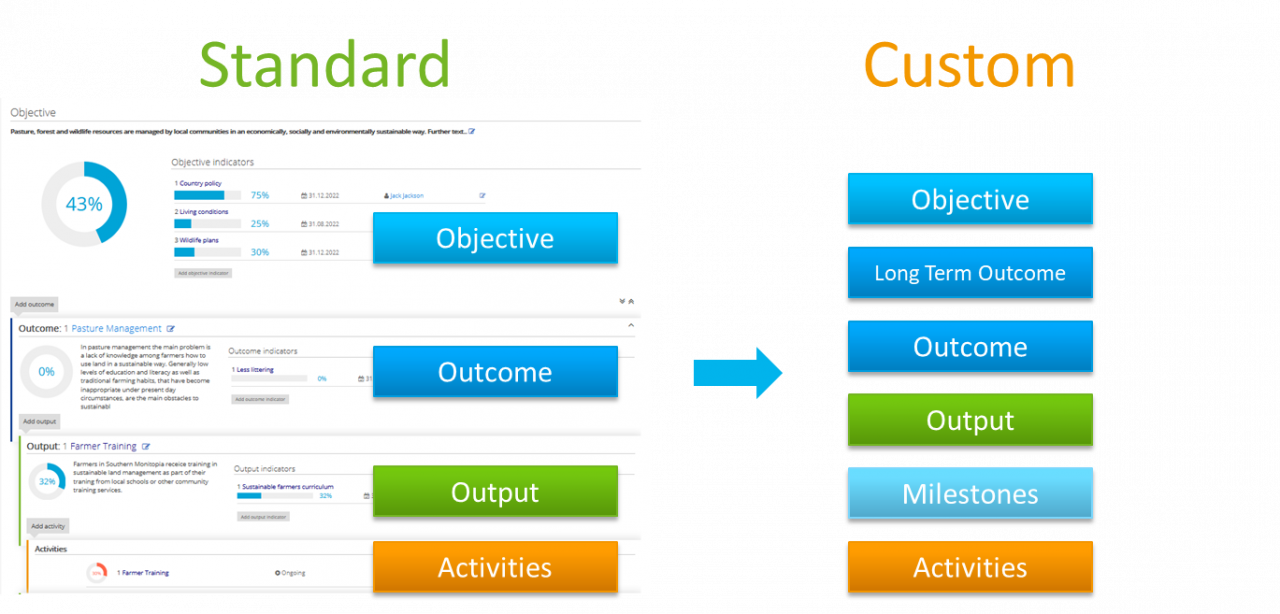 Is your project setting different?
You are running a global program with many projects in different countries and you need to aggregate results? Our M&E software WebMo supports your monitoring by aggregating key data on country, regional, and global level. We can set up any project structure for you as long as you can bring it down to paper.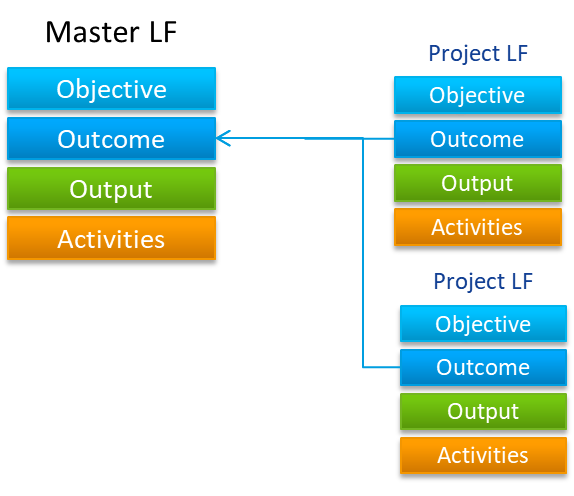 Or your setting is even more complex as many organizations are involved? Maybe you are responsible for steering a global/regional program funded by many donors and implemented by many organizations having each different country projects running. And at the end you have to compile reports for the different donors summarizing the results.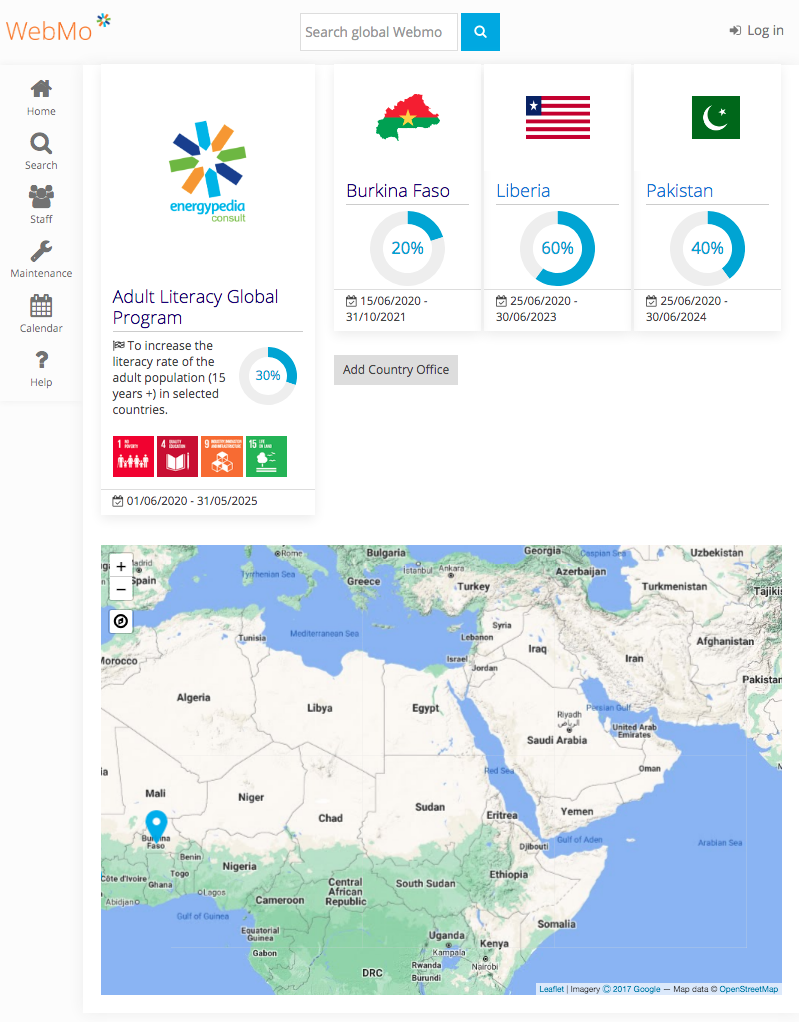 Don't worry, we are M&E and IT experts and setting up a WebMo for such a complex setting is our daily routine. Please check our Custom-Demo-WebMo to see how it could look like.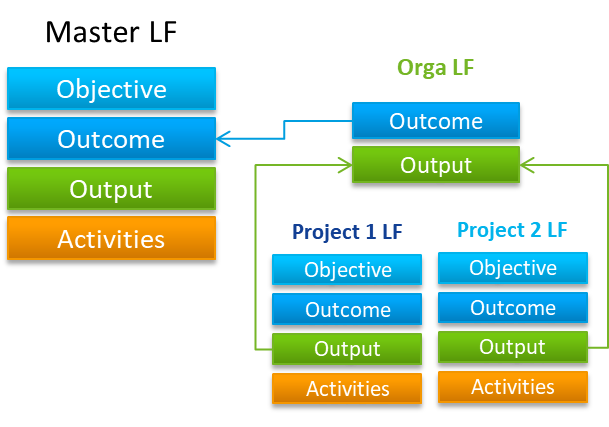 Monitoring Examples
You need more/less fields to enter information?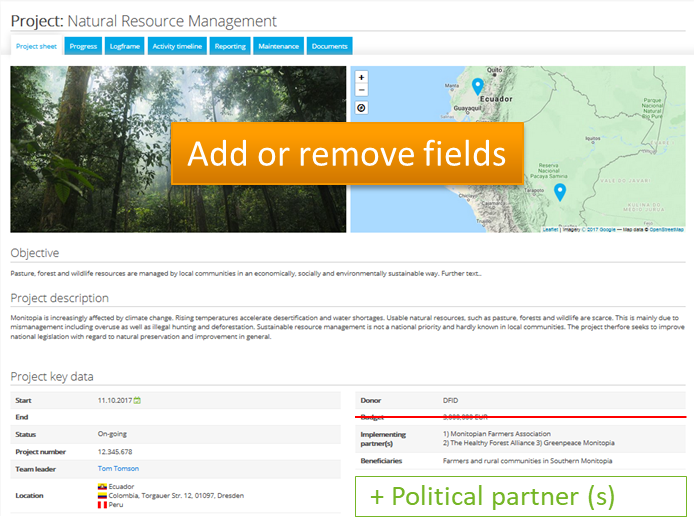 Quality Management
Quality is assured by enabling only people with specific permissions (e.g., M&E focal person, project manager) to confirm indicator progress. Only authorised users can approve indicators, which will be taken into account for further calculations (e.g., indicator overall progress).
Reporting Examples
Connect your reporting template to your data. We can upload your reporting template to our M&E software WebMo and connect it with your monitoring data. If required, for example in co-financed projects, even multiple reports in different styles can be generated based on the same set of data. Enter your project information and select whether it should go into your report.
Collaboration Examples
Stakeholder Management
Well-structured and relationship-oriented communication with stakeholders guarantees long-term success. The WebMo Stakeholder Management System is the ideal tool for your organization or project for documenting and managing all information relating to your donors, clients, partner organizations, consultants or beneficiaries. This helps you to develop relationships in a transparent way and to effectively share knowledge within your team.
Resource Database / Publication Database
With the WebMo Publication Database it is easy to manage, upload, share and search for publications or files within your team or organization. Instead of saving files on one computer or internal server, it is possible to save them online and making them available to anyone who is allowed access, anywhere and anytime.
Consultant Database
The WebMo Consultant Database allows you to collect all your consultants' information in one concise system. It also provides the option to schedule visits of particular consultants, so your colleagues have a clear overview of who is visiting when. With this knowledge, visits can be coordinated efficiently across several departments or teams of your organization.
Project Database
Our M&E software WebMo allows you to set up various types of Project Databases for projects within your organization. This database captures all relevant information on your projects' thematic focus, implementation, status, deadlines, resources and locations. The information is displayed in the form of text passages, tables, charts and maps. The database also makes it easier to identify and make use of synergies by intuitively linking the project's information to country, contact person, intervention areas and/or related publications.
Inquiry Management
Collect all incoming questions and their matching answers with the WebMo Inquiry Management Tool. The tool also documents the status of all requests and the responsible staff member. This ensures that no inquiry is forgotten and helps the team efficiently divide tasks.
File / Picture
Within the WebMo File Gallery it is easy to upload, search for and share various files of different types. The documents can be sorted alphabetically, for example, or by country or research area and searched for by filename or tag.